Hello, desert-loving friends!
Today I'm sharing about a recent trip that my husband and I took to Joshua Tree National Park. This was his birthday gift to me and I can't think of any better place to ring in a new year of life.
I hope this post will be helpful to you if you're planning an upcoming trip to JT. If you're not, I hope this post changes your mind and inspires you to put this slice of Heaven on your bucket list ASAP.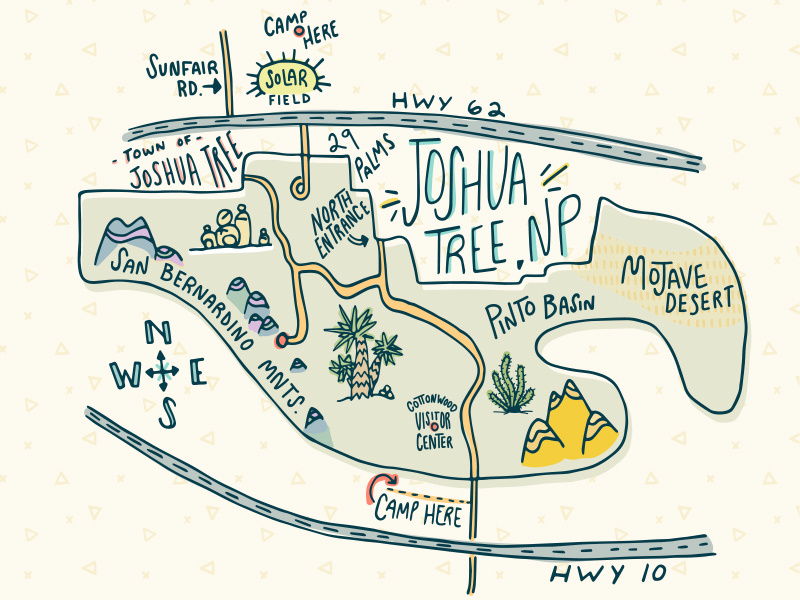 —
Where: Joshua Tree National Park in Southern California
Where We Stayed: AirBNB in Yucca Valley, 15 minutes outside of the park entrance. Highly recommend this stay! It was private and pet-friendly, so our dog loved the big spacious backyard and it was sparkling clean with a really comfortable bed — key after hiking and exploring!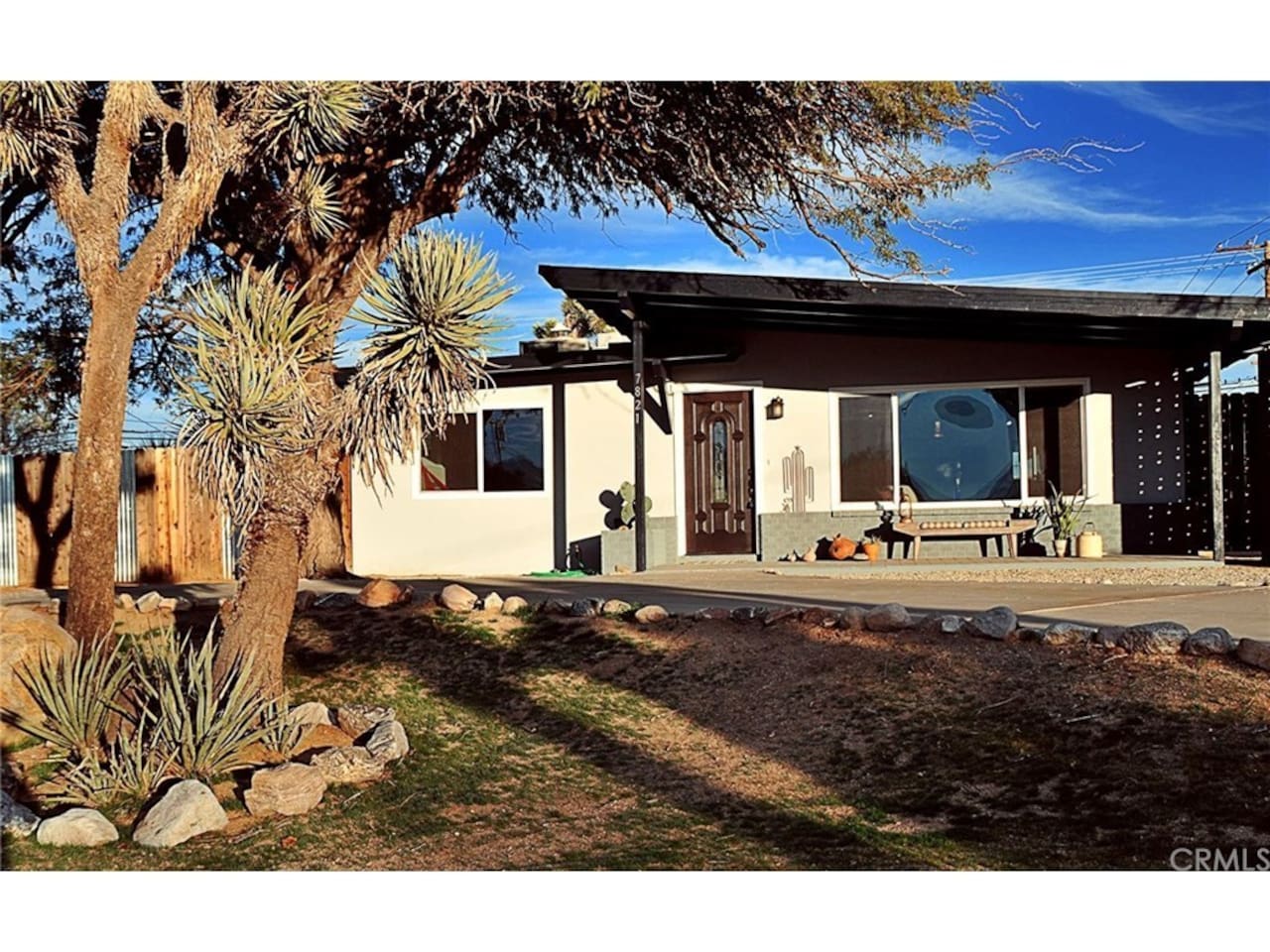 Day 1: Getting into Town
We arrived to our AirBNB in the afternoon, which was about a 2.5 hour drive from where we live in San Diego.
We headed into the actual town of Joshua Tree, and explored the store and Visitors' Center. Of course I bought a mug that I don't need, but will treasure forever.
The purpose of going to the Visitors' Center right away was to buy our park pass, so that we wouldn't have to worry about that the day of. That way, we had the freedom to head into the park at whatever time we wanted the next day, because the visitors' center and ranger stations wouldn't open until 8 a.m. It only cost us $30 for a week pass for one vehicle. I would recommend doing this ahead of time!
There were bee warnings everywhere, which had me a bit freaked out! But I think we saw a total of 2 bees all weekend and they didn't bother us. 🙂
Behind the general store is the "World Famous" Crochet Museum, and it's absolutely hysterical. It's free to pop into but donations are accepted. Highly recommend!
The afternoon heat was high, so after exploring around town a bit we went to the Joshua Tree Saloon for burgers and beers and to talk about our plan of attack for the park the next day.
We were planning to get up early the next morning to head into the park, so we went back to our AirBNB for some quality time by the fire. Chase loved getting to be outside for so long with so much room to play. We made s'mores and enjoyed the peace, quiet, and clear sky.
Day 2: Park Day!
We woke up while it was still dark, with hopes of making it into the park shortly after sunrise. I'd highly recommend getting up early to head into Joshua Tree. Driving east as the sun is rising is magical and the park is full of peace and quiet. There was no long line to enter the park (as tends to be the case on weekends), and because it was September, starting early helped us to beat the heat and get in some quality miles before the temps got unbearable to 100. (Don't forget to purchase your park pass in advance so you have the freedom to do this!)
We covered 7 miles of hiking in about 5 hours. We would have loved to do more but it was H-O-T! We'd recommend dressing in layers (it's chilly in the morning but gets hot quick), bringing at least one gallon of water per person, packing plenty of snacks, and leaving your pets at home if you're going in the heat of the summer. Chase chilled comfortably in the airBNB's AC while his parents hiked. 🙂
First stop: Arch Rock
This was a very short but memorable hike to some pretty cool rock formations. Perfect hike to ease into the day, and great for kids/families/hikers of all levels. The trailhead is tucked behind a campground and we got started just as the campers were waking up, making coffee, and eating pancakes. It looked like a great site to stay at if camping in the park is more your jam. We did see a lot of rattlesnake poop on this trail, but no rattlesnakes (phew!); I think they were still sleeping.
Cholla Cactus Gardens
We loved this stop! We had it all to ourselves and there is a nice, flat walking trail to take you all through the gardens.
Skull Rock Hike
Keys View
Overlooking Mt. San Jacinto to the right, Coachella Valley and Palm Springs to the left.
Wall Street Mill Hike
Barker Dam
Pioneertown
After a quick post-hike nap back at the airBNB, we recharged and headed to Pioneertown, about 15 minutes from our airBNB. If you are trekking all the way out to Joshua Tree, Pioneertown is worth making time for! It is exactly what you'd imagine the old west from the movies would be like…because it was used as a movie set for many old western films!
This venue was pretty cool — a huge old "hay barn" now used for live music and secondhand books for sale.
After walking around Pioneertown, we hand some drinks and delicious bleu cheese nachos at the bar at Pappy & Harriet's, a legendary local spot. Shoutout to our new friend David!
Later that night, we got pizza to-go from Little Italy Italian Cafe in Yucca Valley near the airBNB. We had heard that Two Guys Pies had the best pizza in town, but sadly they closed early on Sundays. We were disappointed but ended up being so satisfied with Little Italy — it hit the spot! And so did the wine out of plastic cups. 🙂
The Highlight of it all: Stargazing
After our classy dinner, we jumped back in the car as soon as the sun went down to go into the park one last time. Guys, I have NEVER seen the stars and night sky like this before. It was magical. We pulled over somewhere in the middle of the park and it was so dark we could see every constellation as clear as day, and so eerily quiet that I could hear my own heart beating. It was wild, and a little scary at first to be out truly in the middle of nowhere in the pitch black, but mostly incredible. Definitely a great memory that my husband and I got to share, and once-in-a-lifetime. If you go to Joshua Tree and are staying the night, you HAVE to do this. I have no pictures because pictures from my old iPhone wouldn't do it justice, but just trust me.
Sadly, we had to leave the desert and head back to reality (work) the next morning. We had a great time in Joshua Tree and my only regret is that we didn't have one more day in the park to do more hikes! It really is so massive (800,000 acres!) that you could spend a whole week on different trails.
I hope you found this post helpful and inspiring to go on your own Joshua Tree adventure. The more Chad and I travel together, the more I'm reminded that it's not where, but who you're with, that really matters.
Happy trails! xo