Go back in time with me for a moment.
Think of your best, oldest, and truestfriend. You know the one.
That one friend that's known you in all seasons — they've known your good, your bad, your ugly. They loved you in bellbottoms and scrunchies, they were a part of your first breakup and your wedding day. And you loved them at their worst, too. But you always saw the best for them. You've walked through grief and celebration, heartache and hope, with this friend. Your memories with this friend are as old as you are.
For me, this friend is the Philadelphia Eagles.
This team has been a friend I've known in all seasons. A friend that was constant in the midst of change. A friend that I played with and laughed with and argued with and partied with and fought with; a friend that I'd easily make up with again and quickly get over it. A friend that you might be rolling your eyes right now because oh my gosh charlotte, it's just a football team.
But for me…for all of us…it's never been just a football team.
It's the earliest memory I have of my dad.
It's making the 40 minute drive from South Jersey to Delaware every other Sunday night, while riding in the passenger seat, listening to Angelo Cataldi recap that night's drama. Or, if it was a late game — listening to Merrill and Mike call it.
It's sitting behind the goal post at Veterans Stadium in a backwards hat and glasses, 2002, week 11, watching Donovan McNabb break his ankle and screaming my eleven-year-old head off as he locked in 4 touchdowns and a win against the Cardinals anyway.
It's the song I later made up about him while bored in school one day: "Shabby McNabby, he passes so fabby, had a cat, was a tabby…". Yeah. A real talent. My uncles still tease me.
It's waking up early on a Sunday morning with grandmom and dad to watch (and let's be honest, sulk) as that same stadium with my first memories was demolished. I still believe that there's a 700 level in heaven.
It's if I had a nickel for every time I had to hear a "jail in the stadium" joke, even 14 years later. Please. Come up with some new material and don't you dare mention Santa Claus.
It's walking out to the parking lot after a loss and finding that our friend's back windshield was smashed. Angry drunk, or committed tailgater who was committed to going reaaaallly long for that parking lot football toss? It's still a mystery.
It's getting to tour the Linc one summer in July, the season before it opened. I think they called it an Open House and my dad and I had so much fun on that trip.
It's the nickname Lexi started calling me in 4th grade, "Pinky", because I loved Todd Pinkston so much. P.S.Where are you now, Todd?!
It's all of those summers as a kid at training camp, at Lehigh University. It's waiting all day in the sun for McNabb to come out and then when he offered high fives, I could only reach high enough to smack his elbow. It's James Thrash signing my program and quickly saying, "God Bless You", and my ten year-old brain thinking, but I didn't sneeze.
It's another training camp when I boldly asked Hank Fraley in the way that little kids don't care about being polite, "Hank, is it true that you eat six honey buns a day?" 
"Who told you that?" he said. "Uhhhhh, maybe my dad?" I stammered. It was really my Uncle Mark who told me that. But Hank gave Dad a look. Sorry Dad. Sorry Hank.
It's being Brian Westbrook for Halloween. Yes, me. Skinny 13-year-old white girl with braided pigtails and braces. But also, eyeblacks.
It's Joe and Dad.
It's all of the feelings of being a 7th grader and watching your favorite people on the planet go to the super bowl.
It's all of the feelings of sitting on your dad's friend's dryer in the laundry room, staring at a bag of Beneful and a tile floor, during the fourth quarter of that same super bowl because you can't bear to watch anymore. It's asking to stay home from school the next day because you're too sad to go on. It's thinking that you might just vomit, too.
It's experiencing my first real loss – Grandpop Barron – in a bitter cold January in 5th grade. It's listening to Eagles talk radio late at night in my bedroom, on my blue boombox, when I couldn't fall asleep and felt scared in the weeks after his funeral. I just needed something familiar.
It's terrible photos from the first cellphone you ever had.
It's running those looooooonnnnng switchbacks, quads burning, usually singing, rushing to make it to our seats by kickoff. The energy is building and you feel pretty dang happy to be a part of it.
And it's also receiving the text that my Pop-Pop had died — while I sat in section 221 with Chad and Matt as the Eagles painfully lost to the Seahawks, December 7, 2014. It's crying the whole way back down 95 South.
It's running through the tunnel.
It's celebrating our Veterans.
It's hanging out in the college bedroom of a guy that I liked, watching just about every  away game together that season. We both knew it wasn't going anywhere, but I could talk football and eat pizza and blow off studying… so that was fine by me.
It's dating someone else for all the wrong reasons. It's realizing that I wanted to break up with him the same day that Andy Reid was fired, and somehow always connecting the two together.
It's being with my friend 4.5 years ago, the week before her wedding, stopping for gas in Rancho Cucamounga, CA. It's, "wait! before you start driving again, can we watch the Eagles hype video?" It was this one. She was so nice + patient.
It's all of those awkward stages of stumbling through life and not really knowing who the heck you are or what the heck you're doing. It's trying new things and messing up and learning hard lessons and skinning your knees along the way…but faithfully watching the TV every Sunday in the Fall. That old, familiar friend.
And it's joy, too. It's not just a football team, but so much joy. 
It's September, telling my mom about the cute guy from church that I met while the Eagles played the Broncos on the TV in the background.
It's sitting at a picnic table in FDR Park on an unusually warm November day, eating Wawa hoagies knee-to-knee with that same cute guy from church as he asked me to be his girlfriend, before kickoff against the Redskins. Nick Foles was our QB then, too. And it's "Hey…I know we've only been dating for two hours but…wanna meet my dad at halftime?"
And it's knowing you've got an Eagles-watching-partner forever and ever, when he later asks you to be his wife.
And it's blissfully attending your first game as newlyweds.
It's Take Your Dad To the Linc Day.
And it's dad flying all the way across the country for some quality time — but not without our birds, of course.
It's losing bets to our friends from Dallas.
It's joking about naming our first born child Carson. But we're actually totally serious. Don't steal our name.
It's running six miles to the Rocky steps before the Monday night game.
It's attending open practice at Franklin Field.
And it's still so, so many countless memories with Dad.
It's losing my voice singing in section 221.
It's that time they tweeted our dog.
It's that time we had seriously the best day ever ever ever. A bitter cold December night (the best football watching conditions), Jim's Steaks, butterflies in our stomach, and deep fried peanut butter + jelly.
It's 44-6 and 4th and 26.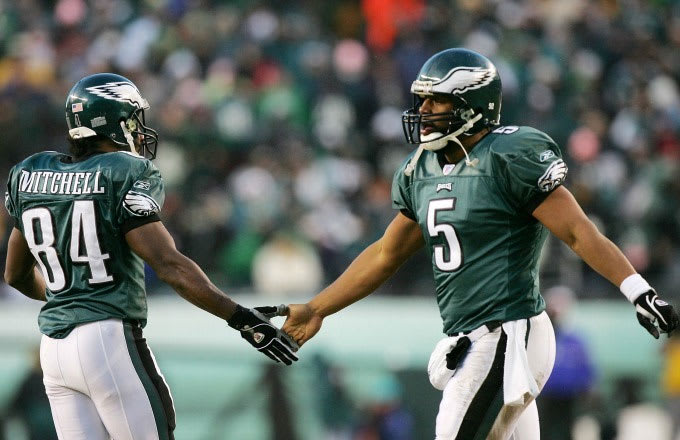 It's CAN WE JUST TALK FOR A SECOND ABOUT HOW CUTE MY BABY SISTER IS?!
It's running into the owner in Pike Place Market in Seattle. He was so kind and friendly.
It's making friends with Eagles fans – even in the Space Needle.
And it's not even going to the game — but just hanging out with them across the street — the next day. It's hugging everyone, because we're strangers but we're all family.
It's having the chance to do my best Andy Reid impression. Time's yours.
And it's me absolutely losing my cool over just a football team.
This is my story of a life spent loving the Philadelphia Eagles. What's yours?
Because…this isn't just a football team. This isn't just a sport. This is the story of a city, our city, who has faithfully waited and waited and waited and WAITED, alongside our lifelong friend — the one that has been woven through all of our stories, and all of our seasons and childhoods and memories.
We've ridden the highest highs and the lowest lows for YEARS. And even when it hurt, even when it was hard — we kept going and kept believing at all costs.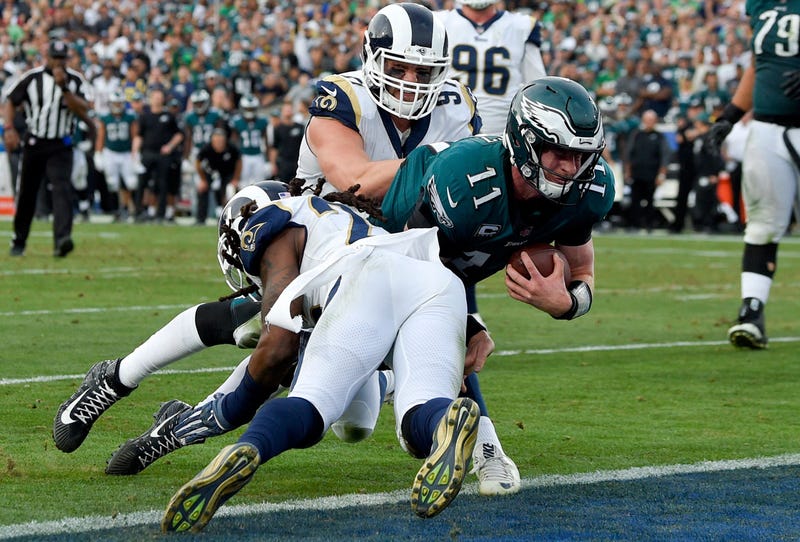 Even though the road to victory has been a heck of a bumpy one. Even though this Sunday looks a little bit different than what we originally imagined — we never stopped believing that our Sunday would come. Now, it's right around the corner.
We're resilient and we're ready.
And come what may — I'm just really happy for my friend. My best, oldest, truest friend.