Happy Friday! Better yet – happy Friday before Marathon Monday!
That's right – runners' Christmas is just around the corner! The 122nd Boston Marathon kicks off at 8:50 a.m. (EST) on Monday April 16, 2018.
Even though I have never qualified – the Boston Marathon means so much to me. It holds a special place in my heart, because the first time I watched it was 2013. I had just gone through a few tough things in my personal life just weeks before and was feeling a little lost and down. I remember sitting on my dorm room bed on Marathon Monday, glued to my laptop, watching the runners who had worked their butts off to get there, absolutely in love with the sport I had abandoned and knowing that I desperately needed to get back into running (I had run XC in high school but fell out of it as college and other priorities took over). Later that day, the bombings happened. The next week, I asked my mom to sign up for a half-marathon with me.
That summer, I visited the memorial and will always remember the flowers, running shoes, stuffed animals, and candles left on Boylston Street. I stood in front of the Marathon Sports store and imagined being a spectator that day. I wasn't a Bostonian, I wasn't a marathoner, and I hadn't even run more than 3 miles in the past 4 years – but the Boston Marathon grabbed my heart in 2013. I was grieving the tragedy of the bombings and simultaneously was drawn to the beauty and mystique of the marathon. I wondered – could I ever do something like that? The rest is history and though I have a long road (and, ahem, 50 minutes to shave off) ahead, I dream of making it to Boston someday. You could say I like to dream BIG. 🙂
All sappiness aside – I LOVE the Boston Marathon! It has become one of my favorite days of the year. I have watched it every year since 2013 and have been fortunate to either take the day off of work to watch, or have had really kind bosses who let me stream it on my computer all day long. This year I am lucky enough to have the day off to celebrate and can't wait to follow the elites, San Diego Track Club pals, and friends who will be toeing the line in Hopkinton. They have worked incredibly hard to make it to Boston and I will be cheering loud and proud from San Diego!
Whether you're a runner or not, we can all be inspired by the Boston Marathon. If you've never watched it before, I highly encourage you to change that this Monday morning!

1. History! Boston is the world's oldest marathon, and considered to be one of the most prestigious. It began in 1897, just one year after the Olympic marathon debuted in 1896. There are so many traditions tied to the Boston Marathon, and it's also where Katherine Switzer paved the way for all of us and became the first woman to complete the marathon in 1967 – while fighting off tackles from a male race official who tried to stop her!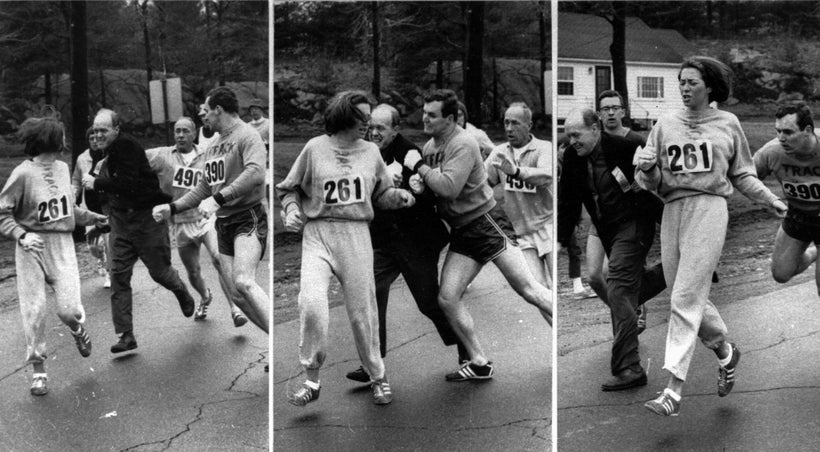 2. The competition. Every year, the Boston Marathon attracts the best runners in the world. They are phenomenal athletes and it's so rare to see them all together, competing against one another in one race. They are truly beautiful to watch! This year's field is the best I've seen in recent years. There is going to be some tough competition for both the men and women and I'm excited to see which Americans come out on top. And there are some REALLY great women this year!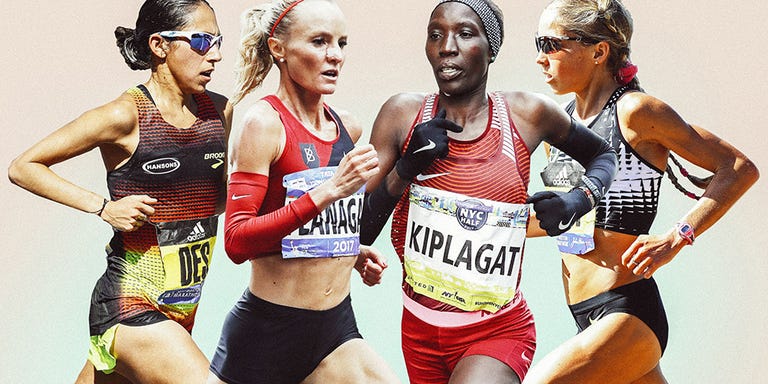 I look forward to cheering for a solid finish for Sara Hall, her first time at Boston, just because I adore her heart and look up to her. It will be exciting to watch Jordan Hasay again – but I hope she isn't first American woman because she's still young and has so much time to shine and win throughout her career – I would love for some of the other, older elite women to have a better day!
I'm also excited to watch SD local Meb Keflezighi run. This is his first marathon being "retired" and he is running on Team MR8 – in honor of Martin Richard, the little boy who was killed during the bombings five years ago.
3. Shalane's last shot. Above all, I'll be rooting for Shalane Flanagan to win Boston. She won the New York City Marathon in November 2017 but being a Massachusetts native, I would love to see her end her professional career by breaking the tape in Boston.
Plus – I LOVE that she is a foster mom to two teen girls. She is a great role model for girls and young women in the sport and I would love to see her on the top of the podium this year.
4. Seeing hard work pay off. It is an amazing accomplishment to qualify for the Boston Marathon. To give some perspective, only 12% of marathon finishers are fast enough to go to Boston. The average marathon finish time for women 18-35 in 2018 was 4:47, and to qualify for Boston, women ages 18-35 must run a 3:35 or better. And because the Boston Marathon is so popular, even 3:35 won't get you in these days – you actually have to run somewhere around 3:30 (8:00 min/mile) since you are competing with so many people for not very many spots, and they take the fastest times until the spots are full. The Boston qualifying standards are tough to meet, and it comes easily for a very small percentage of runners.
The tens of thousands of runners you see on race day have made many sacrifices to be there – early training runs in the dark, dialing in their nutrition, countless speed work around the track, weight loss, balancing training with work/family, overcoming mental illness, insecurities, doubts – the list is endless. What I love about Boston is knowing that every single runner we see on TV had a unique story and their own challenges to get to the starting line – but they all shared the same dream. It is incredibly uplifting to watch them and to celebrate their hard work!
5. Inspiration! After watching the Boston Marathon, you'll no doubt want to go run a mile, or 26.2 — and you'll find the courage to actually do that hard thing you've been dreaming about, whatever it may be. The Boston Marathon is a beautiful display of the human spirit and will encourage you to get out the door, get intentional, and do something big with your life!
How to Watch the Boston Marathon:
If you're a west coaster like me, set your alarm clock EARLY and get the coffee pot ready! The elite women's race starts at 6:30 a.m., Pacific Time.
Stream the race on the Boston Athletic Association site.
Snuggle up with your dog, blanket, cup of coffee, be inspired, and cheer!
In the Comments:
Who are you rooting for to win the women's race?
Have you run Boston, BQ'ed, or are you dreaming of a BQ?