Why wait for a new year to start incorporating healthier habits into your life?
I love the beginning of each month. To me they are so full of hope and potential; a new season and a fresh start.
Even better is the first Monday of a new week in a new month. Like today! Hurrah.
If you're like me and feeling a little extra motivated and inspired to make June better and brighter than May, here are 3 quick tips you can start incorporating today:
1. On Sunday nights, write down your plan. There's no such thing as the Sunday Scaries when you spend time making goals and creating intentions for the week ahead! On Sundays, I like to write down what I will aim to eat for meals and snacks Monday-Friday. Writing it down on paper and sticking it on my fridge helps me to stay accountable to make good choices – choices my Sunday self had hoped for. I know what days I'm eating a salad for lunch, which night I will indulge in a glass of wine, and everything in between. For example, if I find myself hungry after work at 4:30 p.m. on Wednesday afternoon, instead of  mindlessly binging on whatever snack I find, I'll look and remember that I had written down "carrots, cucumbers, and hummus" as my afternoon snack plan. Alternatively, it's nice to know when I have planned treats/desserts and I can look forward to them. It's kind of simple and elementary, but it really works and I'm sticking to it.
Similarly, do the same for your workouts! I imagine that many of you have busy work and home life schedules and that no two weeks are the same, so no two workout schedules are the same, either. If you don't schedule in your workout sessions ahead of time — they will never happen. Exercising should be a priority, not something you only do once in a while if you have extra time. Write down a plan on Sunday and schedule in the time. Write it on paper and stick it wherever you'll see – your desk, bedside table, fridge — and then put it on your phone calendar. Write down the time, gym location, and what you will be doing specifically for that workout. Make a note if you will need to remember to pack clothes if you're heading there straight from work. Block it off as if it were a work meeting. Heck, I even go so far as to "inviting" my husband on my calendar workouts so that he also knows that that is my precious scheduled time and will keep me accountable to meeting my goals. A few minutes of planning ahead on Sunday = guaranteed success for the rest of the week.
2. Keep extra fruits and veggies stored in your workplace kitchen. I don't know about you, but the time I seem to be tempted to eat junk food and more food than I need the most is when I'm at work, usually mid-afternoon. At my office, there is an unlimited supply of candy and it seems that someone brings in donuts every other day. The temptation is real! And one too many times, I've wandered into the kitchen hungry and opted for Swedish Fish and Sour Patch Kids. Not exactly the best choice, and not even satisfying or filling – I'm hungry again 5 minutes later and am then tempted to go for the donuts! It's a horrible, vicious cycle. But I've recently started bringing in extra fruits and veggies each Monday, and I store them in a tupperware in the fridge all week long, so I don't have to remember to pack them each day. And make sure you wash and cut them ahead of time so they are ready to go when you're at your hangriest. 🙂 That way, when hunger strikes, I opt for a healthier sweet treat instead of the sugar-loaded junk. My personal favorites to keep on hand, especially in summertime, are strawberries, blueberries, clementines, and cucumbers. Again, a few minutes of planning and packing ahead can help you to make wiser decisions for your health all week long.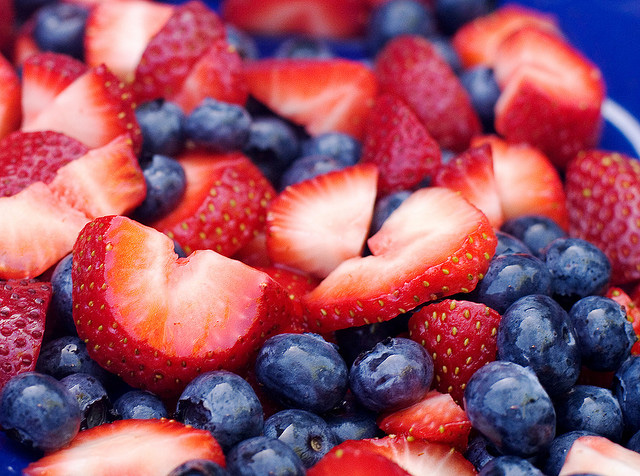 3. Try a new workout!
The start of summer feels like a clean slate, and it's the perfect time to try a fun, new workout. With great weather in all parts of the country this time of the year, take your workout outside! Many gyms offer outdoor HIIT (high-intensity interval training) and bootcamp classes, getting your Vitamin D and endorphin rush all at once. Or, if you live near water, rent a paddleboard and spend a few hours doing some killer core and leg stabilization work. Go surfing. Explore trails on an afternoon hike. Play tennis at the local park. Just do something fun that you've never tried before. Go outside of your comfort zone a bit. One of my goals this month is to try Zumba and Barre classes. I'm a terrible dancer, but I know I'll have a blast learning something new while sweating and toning.
Happy June, friends – wishing you lots of sunshine, sweat, and time with the people you love.
Make this month your healthiest yet!